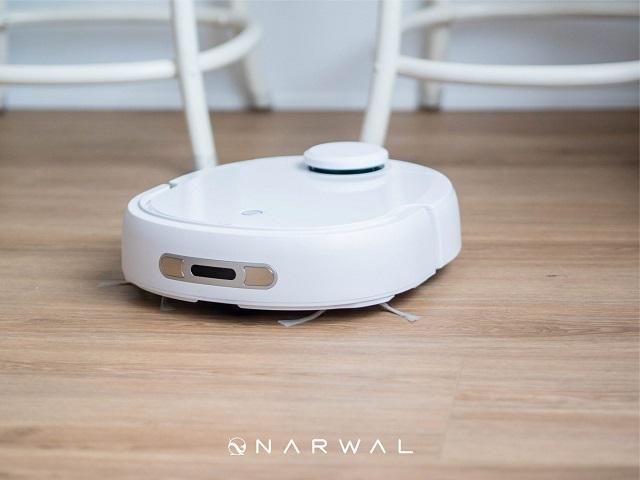 The Narwal cleaning robot, not only vacuums and sweeps but mocks with dual spinning scrubber pads. It has the world's first self-cleaning base station complete with clean and dirty water tanks, a water sprayer, washboard, and a ventilation system.
This article is not sponsored, but we're writing about Narwal because of the brilliance of the entire system. They launched on crowdfunding a few years ago and now they're on Amazon with stellar reviews. Over 164 people rating the robot with close to almost perfect 5.0 reviews.
The Narwal comes with the robot base station, with sweeping and mopping, multiple spare pads and brushes with magnetic strip detergent sheets, and a few more goodies.
Not only is it really impressive, but they have a bit of grip tape to help the guy pull up, and prevent some slippage after the water's on which also makes it removable and easy to clean.
The setup was pretty smooth, which I appreciate. It's the classic plugin. Hold two buttons for wifi setup mode, add the device in the app and we're good to go.
How is the Set-Up?
Firstly, the Narwal robot and base station design looks really good in my opinion. Now, even though it's fairly large in size, it very easily could have looked like an eyesore, but instead, it looks clean. Minimal and premium after it's all set up, you need to generate a floor plan map in the app for smart navigation.
Narwal has this auto-mapping feature that allows the robot to roam around my house to generate a new map. You would think all robot vacuums have this, but very strangely they don't usually generate the floor plan.
For example, other vacuums will run a full cleaning to generate that map. That means going back and forth, back and forth room by room, which can take forever. Now there's that pin and go trick but that takes time in manual input. Narwal doesn't need to clean my whole house to generate the map. It roams around the house, shooting that LIDAR sensor that generates the floor plan fast, efficient and autonomous.
Attention to Detail.
There's some other awesome attention to detail that I really like. There's that little LCD screen on the base station. It's fantastic for viewing current cleaning progress. Plus, I found that I used those onboard buttons a lot more often than I thought I would control them.
It's fast and convenient. Sometimes easier than pulling out the app. I can start cleaning, pause, recall the vacuum, even create a map from here. I like seeing the precise battery percentage in the app and what's left. I also like that it gives us the exact progress percentage during cleaning, which is really cool.
After a mopping session in the base station, you can hear and feel a gentle fan running. Now they call it a ventilation system and it dries out the wet mops when they're not in use. It's a fantastic way to prevent mold and yucky smells in the app. There are lots of pro features that I didn't expect them to have like map management, dividing, merging, naming rules.
Selecting one, two, or three wash passes, low, medium, or high soapiness levels, and device volume. There's even a child lock, which is helpful. They're separate, no-go mopping and vacuuming zones. It's easy to schedule auto cleanings for mapping and smart navigation.
So how well does it actually vacuum and mop? Well, pretty well, actually, I really like how easy it is to magnetically on and off the different attachments switching between sweeping and mopping mode; though, this is the obvious con is that you can't do both at the same time.
---