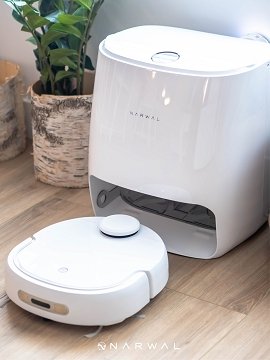 The good news is that this product is high-tier in nature. It does Vaccum and Mop with incredible efficiency. I'd say it's about a 9/10 because it's one or the other. Now everyone's home is going to be vastly different with surfaces, cleanliness, etc. But personally, I found the vacuuming did a nice job of cleaning up crumbs' and I appreciate the twin side brushes that I can always run with two or three X passes for more thorough cleanings.
Now, without that main rubber roller brush, like all the others, is it going to clean as deep and thorough and carpets and such like the other guys? Probably not. Mopping is the key feature, of course, & with those twins scrubbing pads upfront, they seem to leave floors nice and clean, picking up most stains and smears.
Now it's very quiet, which I really like as well.
For example, there was a sticky spot next to my chair and the Narwal cleaned it up a little bit, but not completely. Those triangle brushes can't reach super wide but I'm not expecting it to be a human manually mopping. But for what it can do, I'm impressed.
What is Good and What is Meh?
That battery life seems really good, it's one of the larger batteries. It's really cool that I can send it out to mop or clean a room and it only uses about 12% of the battery. I also really liked those large water tanks for clean and dirty. They seem to last a while, depending on square footage.
Narwal seems like it recognizes where it's at, which is good, but by the system, there's no water tank in there. If he needs to go clean those pads, it goes back to the base station. If I do move it to the base station, it does need to remap my house which is a downfall but for others who don't plan on moving the base station, you're 100% fine setting it up once.
Their biggest flaw (which isn't even a flaw) but their app has great features but the design is a little bit rough as in buggy. But they are fixing that and they've even mentioned that there will be a Google Assistant Integration for voice control later down the line.
With Narwal, you can't have the best of everything but because it not only does mopping, but it does vacuuming really well and it's also a robot, then it's definitely worth it for the people that are techy and want something nice, minimalistic, great design and great functionality.
I'm looking forward to what Narwal does in the future, but as of now, I love what they're doing and that's why so many people backed them up when they did a Kickstarter.
                                                                                                                             Published by Ulyses Osuna
---